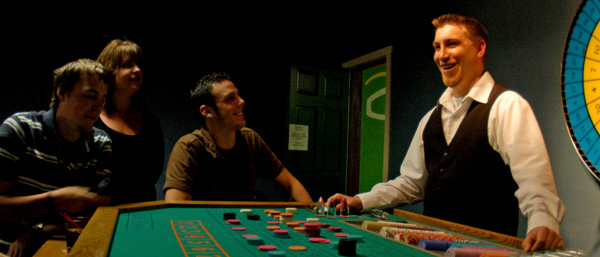 Poker Tournament
Sunday, March 4, 2018
Registration at Noon (No advance registration)
Play begins at 1 PM
$190 buy-in for 15,000 in chips
$10 add on for an additional 5,000 in chips (optional one time, at time of registration only)
Click here for blind schedule.
Players must be 21
Registration begins at noon the day of the tournament
Late registration up to 3 PM
Cash only – must bring ID
Blue Wolf Casino is one of three gaming sites conducted by and for Plains Art Museum.
Amenities
Be pampered with first-class service.
Large pull tab selection with prizes up to $500.
$25 blackjack with $1 minimums on 6 tables.
Paddlewheel pays up to $680 in a single spin.
Pizza and appetizers. Click here for menu.
Full bar service. Click here for daily specials.
Location
We are located in Cactus Jacks Saloon
701.232.2019
3402 Interstate Blvd. S
Fargo, North Dakota 58103
Our Affiliates